10% off all Coins and Supplies
for orders of $5.00* or more!
* Excluding shipping and handling
Shipping and Handling for 2 Pennies -- 99 Cents -- That's it! No hidden charges.
You pay the actual US Postal Service First Class Letter Rate for each ounce. The first 2 or 3 pennies including packing and envelope equal one ounce. Each additional 4 to 6 pennies including packing and optional holders equal one additional ounce. Includes a 50 cent handling charge and the minimum order is only $2.00. Details!
Click here to go straight to my


Inventory of Lincoln Wheat, Memorial, Bicentennial and Shield Cents.
Lincoln Shield Cents
began production in 2010 from the Denver (D) and Philadelphia mints. Coins from Philadelphia, traditionally have no mint mark. All Shield cents have the same metal content (2.5% copper, balance zinc, weight 2.5 grams) as cents after 1982. Proof cents from the San Francisco mint have an "S" mint mark.



Birth and Early Childhood in Kentucky
1809-1816




Formative Years in
Indiana
1816-1830

Lincoln Bicentennial Cents
continue to bear the same likeness of President Lincoln; however, the reverse carries the four designs shown here. The 2009 cents issued for circulation have the same metal content (2.5% copper, balance zinc, weight 2.5 grams) as cents after 1982; however, numismatic versions have the metal content of the 1909 pennies (95% copper, 5% tin and zinc, weight 3.11 grams).



Professional
Life in
Illinois
1830-1861




Presidency in Washington, DC
1861-1865
Click here to read about the four new Lincoln Cents for 2009.

Notice: I have suspended trading coins for the time being.
It just takes up to much of my time; however,
You can still purchase my coins.

For Sale
Pennies are sold by grade and age. The older the coin is and the higher its quality, the more it costs. See below for how the coins are graded and priced. There is a good stock of Philadelphia, Denver and San Francisco mint Lincoln Wheat, Memorial, Bicentennial and Shield Cents from 1909 on; however, there are no rare cents that are worth a lot of money.

I will trade any extra pennies I have for ones I need. Generally I have more Denver (D) and San Francisco (S) cents than Philadelphia (no mint mark) but not always. I will trade even (1 for 1) for pennies of the same general age and grade that I need for my collection. Let me know what you want to trade and I will get back to you. If we both agree to the trade, you will pay the postage and optional insurance (if you want it) in both directions for small trades. Click here for details on trading.


A Penny saved is a Buck earned
if you wait long enough.
With apologies to Ben Franklin.
Note: To see a close-up picture of any of the pennies above or below, just click on it's image.
Blocked? Click here for information on how to unblock the picture.

Lincoln Memorial Cents
were minted from 1959 through 1998 at the Denver (D) and Philadelphia mints. Coins from Philadelphia, traditionally have no mint mark. Pennies for circulation were also minted in San Francisco (S) from 1968 through 1974 when production was switched to proof sets and commutative coins.
Lincoln Wheat Cents
were minted from 1909 through 1958. Because of the war, 1943 cents were struck in steel; however, about 40 copper cents were struck by accident when a few blanks remained in the hoppers at all three mints. In 1996 one sold for $82,500. This 1943 cent picture is from the US Mint, and no I don't have any.
Click here to read a history of the Lincoln Cent from the US Treasury Department.

Inventory of Lincoln Wheat, Memorial, Bicentennial & Shield Cents
Let me know if you Like this site and leave a comment too let your friends know about it.
How I Grade my Lincoln Cents
The grading system used follows the standards set up by the American Numismatic Association (ANA). Most of the coins in stock are in excellent shape. None of my coins have been treated, cleaned or doctored in any way. However with pennies it's not just the grade, but the overall appearance that counts. I price my coins using the following criteria:
Best (Choice Very Fine VF-30 to Uncirculated MS-65)
The newer cents are bright and shinny while the older ones have a rich patina running from deep copper to bronze. Their grades will range from VF-30 up. They generally contain a few contact marks but the high points of the design show little or no wear. Minor spots may be found on some pennies as long as the spots do not distract from the overall appearance. Grading is very subjective; click here to see my guarantee.
Spotted (Choice Very Fine VF-30 and up)
These cents are almost the same as the "Best" coins except they may have some distractive spots or finger prints on the surface. Their grades will range from VF-30 up. They generally contain some contact marks and the high points of the design may show some wear. They do not have any corrosion. The One Cent piece is the most susceptible US coin to staining and wear.
Worn (Good G-4 to Very Fine VF-20)
These cents will show various amounts of wear and may be spotted, scratched or corroded. Their grades will range from G-4 up although most are in the VG-8 to VF-20 range. In general they are like many older coins that have been circulating for several years. The softness of the copper and its susceptibility to corrosion make the US One Cent piece one of the hardest coin to collect from circulation.
How to Order
To order, simply click here or send an e-mail to tom@fl-ink.com with the Year, Quantity, Mint (P, D or S) and price (when listed) of the coins you want. For example: 1968 1D 1S 1P to order 1 - 1968 cent from each mint. If you want the optional holders please specify Flips or Cardboard holders. Make sure you include your shipping address. When I receive your e-mail I will make sure I have the pennies you want in stock and send you a confirming e-mail with the Price, Grade and postage charge. I will automatically deduct the 10% Sale Discount for all Coins and Supplies on orders of $5.00 or more. Postage will be more if shipped outside the US.
I will send you a quote for the highest quality penny I have for the year and mint you request. On a trade I will try and match the quality of the pennies you send. Grading is very subjective, so click here to see my guarantee.
Shipping Information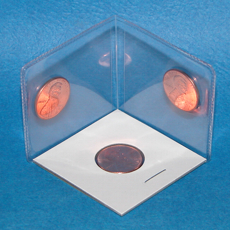 The Pennies come in Free Paper Sleeves, taped to a heavy piece of paper, wrapped inside your invoice and sent in a standard #10 envelope. For an additional cost of 5* cents per coin, pairs of pennies can be shipped in Archival safe Mylar Flips which folds to 2" by 2" or in individual 2" by 2" Penny-size Mylar and Cardboard holders. These optional holders are great for permanent storage and will be put in paper sleeves so the tape will not stick to or damage the holders. Click here to order extra holders from my 50 State Quarters site. Click here to see how I pack coins.
* Note: Each Mylar Flips costs 10 cents and holds 2 coins so if you order an odd number of coins it will be rounded up to an even number. I don't cut the Mylar Flips in half.
Postage Information
You pay the actual US Postal Service First Class Letter Rate for each ounce.
Pennies shipped in holders:
The first 2 pennies including packing, holders and envelope equal one ounce. Each additional 4 pennies including holders equal one additional ounce.
Pennies shipped in Paper Sleeves:
The first 3 pennies including packing, paper sleeves and envelope equal one ounce. Each additional 6 pennies including paper sleeves equal one additional ounce. If you don't order holders then the pennies come in paper sleeves by default. Note: 50 pennies or more will be sent in 1 or more rolls.
For orders between 1 and 6 rolls (50 to 300 pennies), the US postage is $5.60 for a Small Flat Rate Priority Mail Box with Delivery Confirmation. Each additional 1 to 6 rolls is an additional $5.60. When your pennies ship, you will be sent the Delivery Confirmation number so you can track your coins to your door. By default these pennies will be shipped in Rolls instead of Paper Sleeves. Optional holders are available as described above.
There is a 50 cent handling fee on each shipment.
If you want Insurance you order must be sent via Priority Mail with delivery conformation which is $5.60 for all orders with insurance extra. Click here to see my policy on insurance. The cost of the Insurance is $1.95 for up to $50 in value, $2.45 for $100, $3.05 for up to $200 in value in the US. Outside the US Insurance is more when available.
Shipping and Handling in the United States. International postage is more.

1 oz = $0.96
2 oz = $1.16
3 oz = $1.36
3.5 oz = $1.56
4 oz = $2.02
5 oz = $2.22
6 oz = $2.42
7 oz = $2.62
8 oz = $2.82
9 oz = $3.02
10 oz = $3.22
11 oz = $3.42
12 oz = $3.62
13 oz = $3.82
over 13 oz. = $6.10 for a Flat Rate Priority Mail Envelope with Delivery Confirmation.
Note: For people living outside the US, you can estimate the shipping cost by using the United States Postal Service cost calculator at -- http://ircalc.usps.gov/ -- and adding $0.50 for handling. If ordering over 13 ounce, they will be sent in an "International Small Flat Rate Box" otherwise they will be sent via First Class mail in a standard envelope by the ounce. Or simply send me an email with the number of coins and any holders you want and I will look it up for you.

Minimum Order and Service Charge
The minimum order is $2.00 excluding postage, insurance and any service charges. If your order is less than $2.00, then your order will be rounded up to $2.00 to let me cover my expenses. Postage and any optional insurance will be added to the total. There is a 50 cent service charge on all shipments including gift shipments.
Payment Information:
You can pay via a Personal Check, Cashiers Check, Money Order, Cash or PayPal.
Payment made via PayPal, Money Order, Cashiers Check or Cash (bills only please, no coins) will ship within 24 hours of receipt. Make any check or money order payable to Tom Heald. A Personal Check will be put on deposit for 7 to 8 days to make sure it clears before the item is shipped. See my note about Cash Payments.

I have 2 PayPal accounts:
Free Personal account for NON Credit or Debit Card payments: (ID = tom@fl-ink.com)
PayPal has changed their rules!!! When you make a payment to my personal account you must select the "Personal" Tab (under the amount field) and then select "Payment owed" as the type of payment and not use a credit or debit card otherwise you will be charged a fee and I will have to refunded your payment. You must also provide your address as PayPal will not provide it on a "Personal Payment". Non card Personal Payments can be made from your PayPal account via -- an existing balance, eCheck, direct transfer from your bank, etc.
Fee based Commercial account for Credit or Debit Card payments: Click here for instructions on how to make a card payment. It has a fee calculator and my Commercial Account ID. Generally the fee costs about the same as a postage stamp for a small purchase. For large purchases you can avoid the fee with one of the other payment options.
Send your Pennies as a Gift for FREE!
You pay the normal price and your friends or family members will receive the pennies and a Gift-from-You letter without any pricing information. All that is needed is a greeting from you and their addresses.



50 State Quarters are also Available

Visit the 50 State Quarters web site to buy or trade quarters. These brilliant uncirculated 50 State Quarters are purchased directly from the Philadelphia (P) and Denver (D) Mints. They are carefully packaged and sent to you via First Class Mail just like my pennies. Bright and shiny Circulated quarters are also available for sale or trade.




Do you have an Unusual or Valuable coin?

Find out what your coin is worth! Visit the What's it Worth site. It will tell you how to establish the value of your coin.




How Coins are Graded

Find out how to grade your coins! Visit the Grading Coins site. It will explain the most commonly user Coin Grading System.


Auctions:
I sell some of my extra coins via auctions on eBay; however, you can buy then direct and save the dollar or two it costs me for each auction. Click here to see my current eBay auctions. Read about the fees below.

EBay Shipping and Handling Fees:
EBay charges lots of fees: For listing, Buy it Now, Gallery Pictures and twice when an item is sold -- eBay's Final Value Fee and PayPal's fee. My Shipping and handling fee for each item represents all of these fees plus postage via first class mail or priority mail. When a customer combines items purchased from my eBay auctions and / or my websites I will figure a new total based on the total eBay & PayPal fees and the actual postage based on weight. If the combined weight is over 13 ounces, then it is always cheaper to send the items via Priority mail in a flat rate box or envelope.

When paying via PayPal it is always cheaper to make a single payment than paying for each item separately. When you combine your payments, the savings are passed on to you.

To combine purchased into one shipment, send an e-mail to tom@fl-ink.com and let me know which items you wish to combine. I will then send you a total for the combined items. Keep in mind that it is the PayPal fee and the US Postage that will be reduced, the eBay fees generally remain the same.

References -- Guarantee -- Insurance

Click on the following link to check out the feedback about my sales and purchases on eBay if you want.

If you are not happy with any of the coins I sent to you, then you may return them free of any additional charge. You only pay for the postage and insurance. I will refund the full price originally paid for the coins minus the originally shipping and any insurance charges. The returned coins must be the same coins I shipped to you, packaged the same way as when I shipped them to you. If the coins are loose in the envelope, then they are useless to me and I will not refund anything even if you thought you packed them correctly. You must send me an e-mail or call me before returning any coins.

Insurance is always optional; however, if the coins you order do not arrive and you did not take insurance then it is your responsibility. The same is true when you return coins. If they do not arrive and you did not insure them than it is your responsibility.

About Cash Payments
People tell me that a money order cost too much and they don't want to wait a week for a check to clear. If you don't want to use PayPal then you can send cash for small payments. It's at your own risk, so if you decide to send cash make sure you can't see the bills through the envelope. Don't send coins! It just ups the postage and they have to be packaged correctly or the post office sorting machine will rip them out of the envelope.

Round your payment up to the nearest dollar, or you can send stamps instead of coins. I only deal in first class postage stamps (37 cents), or additional postage stamps (23 cents). So if your bill is $3.38, you can send $3.00 plus 2 - 23 cent stamp or 2 - 37 cent stamps. I do not send change. Please, don't send more than 99 cents in stamps.

Credit or Debit Card Payments via.





If you want to pay the fee charged by

for any payment to this account then you must include the fee in your payment. All payments made to this account will be charged a fee including non credit or debit card payments! Use my other account for free, non credit or debit card payments. The fee is 30 cents + 3.1 percent of the amount charged for transactions inside the United States, 4.1% for non US transactions. To compute your fee:

Make your credit card payment to PayPal account (ID = pay@fl-ink.com) only. Do not make a credit card payment to my other account as I will have to reject it. If you do not include the fee in your payment than I can not send the coins until you make the full payment. If you make a mistake, send an e-mail to pay@fl-ink.com and I will refund your payment so you can resubmit the correct amount. PayPal will refund the total amount charged including the fee if done within 30 days. Warning: If you make a mistake or forget to add the fee to your payment and then send the difference in a separate charge, you will be charged an additional fee on that second transaction and you must include its fee in the total. In essence you could end up paying an extra 35 to 50 cents in fees.
About the fees: PayPal charges a fee of 30 cents + 2.9% to the amount you charge. If you live outside the US or your card is issued outside the US and additional 1% "Cross Border" fee is charged by PayPal. When you add the fee into the amount charged it ups the total charge, so their fee increases proportionally. Therefore I have to charge 2/10 of a percent more to make up the difference; otherwise, I end up loosing money on each charge.
Note: Multiple Currency Transactions also includes a 2.5% Exchange rate fee which will show up on your Credit Card over and above the transaction fee charge by PayPal.
Why two accounts? I had to set up this second "Commercial" account because PayPal will not let me receive a credit card payment on my "Personal" account without converting it to a "Commercial" account. If I convert, I will have to pay a fee on ALL Future Transaction to that account including non Credit or Debit Card transactions. I have no choice. Itís all or nothing. Therefore, I set up this separate "Commercial" account for credit and debit card transactions.

---

Free counter provided by Andale on 8/20/2004.